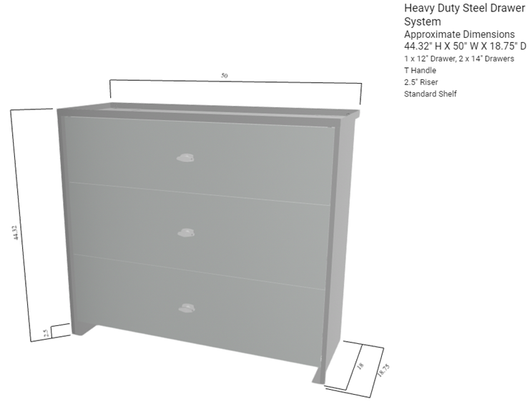 American Eagle 50" Wide Heavy Duty Pull Out Drawer Set - ENG
Regular price $1,988.00 $2,286.20 Sale
44.32"H x 50"W x 18.75"D, 1-12" and 2-14" drawers, T-Handle, 2.5" Riser, Standard Top Shelf
Includes Drawer Kit Back
FREE SHIPPING!
500 lb. Rated Slides - Drawer slides are rated to hold up to the rigors of heavy-duty use and will support heavy tools and other equipment. Drawer slides and hardware carry a full lifetime warranty.
Galvanized Steel Construction (nothing beats solid steel for rugged, off road use) - All drawer components are manufactured of galvanized steel to prevent rust and provide a virtually indestructible surface for the latches to strike-no worn paint as on other manufacturer's product. The metal edges of the drawers, and top shelf, are hemmed for added strength and safety.
Be sure the size you select will fit inside your door opening, and that there are no obstructions inside the compartment.  Also, be sure to add 1" to the listed depth to account for the drawer latch.
*Note - Single Rear Wheel truck beds usually have a notch at the rear base of the compartment.
CUSTOM SIZES: Need a size not listed?  Fill out and send in this form.
LEAD TIME: Because there are literally thousands of combinations, there is usually a 3-4 week lead time for your drawer set to be built.