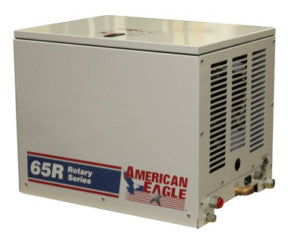 American Eagle 65R 65 CFM Hydraulic Driven Rotary Air Compressor
Regular price $8,096.00 $9,310.40 Sale
FREE SHIPPING!
Air on-demand as required.
The more you need, the more air you'll receive, so there's no need for a large capacity air reservoir. Precision engineered rotary screw air-end.
100% duty cycle rated for continuous use so you can run the compressor as long as your job requires without overheating concerns. Rotary screw lobes are oil-injected for a compression system without metal-to-metal contact for long life. Automotive type air cleaner for high capacity.
High-capacity oil cooler and fan for long life. Durable and attractive covers are included on all above deck compressors. The covers on the 45R and 65R feature hinged lids for quick access to all maintenance points.
Model 65R
• Durable white steel enclosure
• Single-stage oil injected
• 65 cfm @ 100 psi
• Hyd. req: 16-20 gpm @ 2750 psi
• Max. pressure: 150 psi
• 29″L x 26″H x 22″W
• Weight: 345 lbs
View Manual [+]